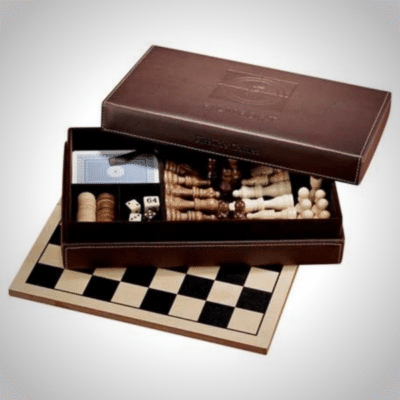 Your Authentic Multi-Gamer!


When you want to play with family or friends, all those game boards are tough to find — tucked away and often forgotten in home closets or drawers.
This "six in one" gift delivers joy repeatedly.
It's a lovely, natural wood hinged game board that features a chess and checkers board on one side and backgammon and tic-tac-toe boards on the other.
All the game pieces are included and stored inside the set, for ready play, including chess, checkers, backgammon and tic-tac-toe pieces, dice, playing cards — and all-important instructions.
Traditional games are popular these days and we're sure this handsome set will welcomed with open arms. The game box measures a convenient 6.5″ H x 10.5″ W x 2.5″ L.
Your company logo or imprint would appear on game box lid, measuring 4″ H x 7″ L.