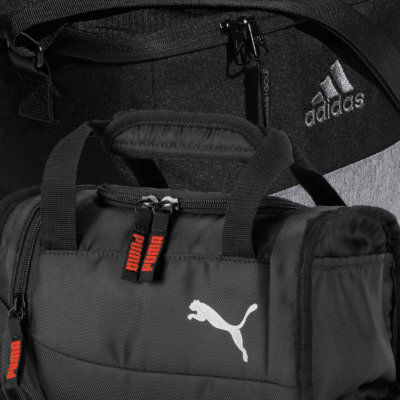 Which brand motivates you?


Imagine that perfect day on a golf course, when you're making your way to the range.
While any cooler can keep your drinks handy, we believe a sports brand completes this scene. What about toting a small Adidas or Puma golf cooler bag?
Adidas fans:  Store water, sports drinks and food items away from the heat in this cooler bag. It's made with recycled polyester to save resources and decrease emissions. Plus the bag features a crossbody carry strap, zip closure, and silver lining material.
This Adidas cooler measures 8″ L x 7.5″ W x 11.5″ H, and may be embroidered with a 4″ W x 4″ H logo on top.
Puma fans:  This perfect cooler bag is ready to accompany you on the golf cart. Made from 100% polyester, you can comfortably carry a six-pack along with a variety of snacks — to keep you hydrated and happy during your round.
The Puma cooler measures 10″ L x 6.25″ W x 6.25″ H. You may imprint a 4″ W x 3″ H logo using a four color heat transfer process.