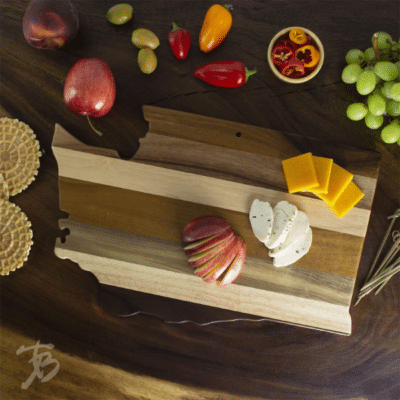 Pick Your States


Totally Bamboo has created beautiful shiplap style serving and cutting boards in various shapes, including U.S. states.
This board is masterfully crafted from a variety of wood planks for a wonderfully rustic chic look.
Each board includes a hanging hole and hang tie to easily hang as wall art in the home or office.
Of course, it's designed and perfect for serving charcuterie at any gather; pile up favorite cheeses, meats, fruits and more!
Care is easy, simply hand wash the board after each use. Please do not soak or wash in the dishwasher.
Washington State is pictured above, which measures 15-1/2 inches by 10 inches. While each state varies in dimension, they are all 5/8 of an inch thick.
As of mid-October 2021, these states are currently in stock: Alabama, Arizona, Arkansas, California, Georgia, Idaho, Michigan, Montana, Nevada, North Carolina, Oklahoma, Ohio, Oregon, Texas, Utah, Washington, Wisconsin.
If you yearn for shiplap, there are also nice surfboard and pineapple shapes available. For all shiplaps, you may choose to engrave your company logo on them.
Contact Us for shiplap or other cutting board gift suggestions.