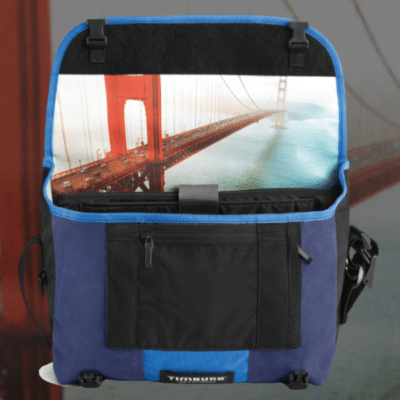 Timbuk2 customized for you


San Francisco's gift to messenger bags, backpacks and and totes is Timbuk2. Founded 30 years ago, these bags were first created by a freethinking, freewheeling bike messenger. They are built to last and come with lifetime warranties.
Look at these Timbuk2 features: Rear, front and pop pocket fabrics | Internal organization panel with four slip pockets | Key lanyard, slip pocket & zipped pocket organization in Pop pocket | Adjustable tote handles
Start by selecting bag colors for trims, zippers, webbing and canvas fabrics to make the look your own. Then reflect your brand with an embroidered logo as well as optional images inserted inside/outside the bag.
Not sure what Timbuk2 bag fits your needs? Besides the messengers, we suggest the convertible backpack totes: laptop versions are great gifts for your remote teams or teams on the go.
Timbuk2 is made in the USA. "Since 1989, we've remained committed to manufacturing our custom-built bags in San Francisco. The sound of sewing machines is music to our ears and it's with great pride that we support local workers, their communities, and San Francisco at large."