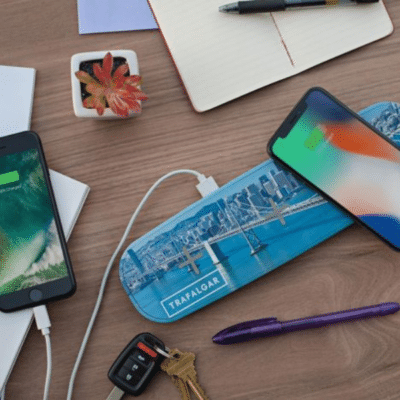 Boltron Wireless Charging Pad


Keep your smartphone devices charged and ready to go when you are! The Boltron charging pad makes charging as simple as placing your mobile phone device on a surface so you can grab and go without the hassles of untangling and unplugging messy cords.
Say hello to the future of charging. With this cool device, you may simultaneously charge five smartphone devices, two via USB outputs and three wireless charging-enabled devices on the pad.
Features: Wireless and cable charging enabled | 2 USB ports for mobile devices | AC adapter cord included | 3 wireless charging stations for smart phones | Compact for convenient phone charging | Compatible with the latest Apple, Samsung, and Android Smart Phones
Your image and brand appears right on this pad, with a digital ABS imprint that's 10.81" long x 3.13" wide.