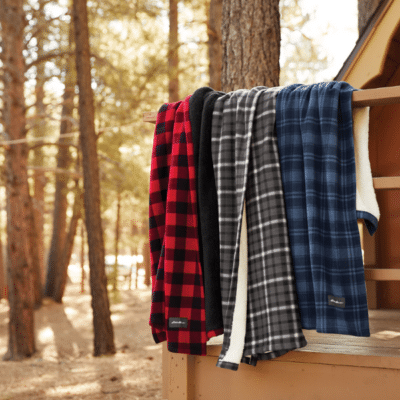 Ready for Fall


Did you know Eddie Bauer supplied outdoor clothing and camping goods to Alaskan Gold Rush explorers and U.S. Everest Expedition climbers?
Today Bauer still delivers comfort and durability whether you're adventuring outside or relaxing at home. We think their bedding and blankets are top notch.
Why not treat your employees or clients to timeless yet modern blankets as gifts?
Rugged style meets soft warmth in classic Woodland blankets that are ready for firesides, crisp outdoor days and more.
There are several color choices, including grey steel/bone, radish/black or river blue navy/blue plaid patterns.
Made with comfort in mind, these Woodland blankets are constructed from 100% polyester microfleece bonded to high-pile fleece. They measure 50″ x 60″ and feature the Eddie Bauer logo woven on the bottom right corner.