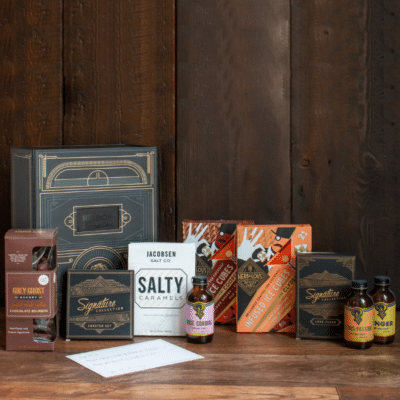 Unlock Deliciousness!


The password is: Deliciousness. Slide the secret panel on the speakeasy box to gain exclusive access to the dark & rich flavors & classy, matte black products waiting within.
First discover these mouth-watering sweets: Grey Ghost Bakery Chocolate Bourbon Cookies and Jacobsen Salt Co. Salty Caramels.
Then get ready to create specialty drinks with Herb & Lou's Old Fashioned Infused Ice Cubes, Herb & Lou's Cosmopolitan Infused Ice Cubes, and Portland Soda Works Beverage Mixers.
To enjoy your drinks and sweets in style, this creative gift also comes with a luxe flask and signature coaster set.
Don't forget to customize your speakeasies! The 12″ x 12″ x 6″ gift box features a brand imprint (3 13/64″ w x 1 19/32″ h), an imprint on the flask (1 29/32″ w x 2 19/32″ h) and a personalized card from your organization.