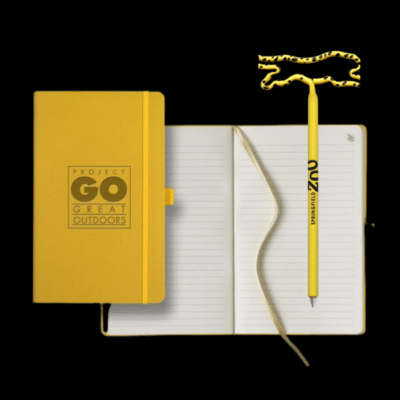 Coveted Writing Tools


When you are launching a new brand or product line, your promotional items leave a first impression.
Pens and notebooks should not be an afterthought! Give partners, clients, customers or employees branded writing tools they adore.
Footprint Promotions recommends an eco-friendly, soft to the touch notebook and a uniquely-shaped pen.
Notebook Selection: An ApPeel® journal is eco and animal friendly, made from apple pulp and other vegetable fibers that get grounded and emulsified into an organic material.
This notebook measures 5 1/4″ x 8 3/8″ and features 192 pages with green lines, gold ribbon marker, gray end pages with colored stripes and a back pocket. Select from eight colors, and add your logo with a foil stamp or deboss method.
Pen Selection: The InkBend Xtra™ is an extra-large ball point pen with a breath-through safety cap. It's all about choices. You'll select from hundreds of pens bent into standard shapes — or customize one for a unique impact.
There are over 60 opaque/transparent colors and patterns to choose from. Then you may pick one of 20 colors for your customized logo imprint on the pen barrel.
Introducing the Leopardo flower
Meet the Leopardo cyclamen flowering plant, which Schoneveld Breeding launched this year. Their team cleverly selected the Leopard shaped pen and matching Golden Delicious apple pulp notebook to create a brand impact.
Take a look at their recent YouTube video coverage, where the notebook and pen are prominently featured (around 21 second mark). We can help you have partners gushing about your brand, too.