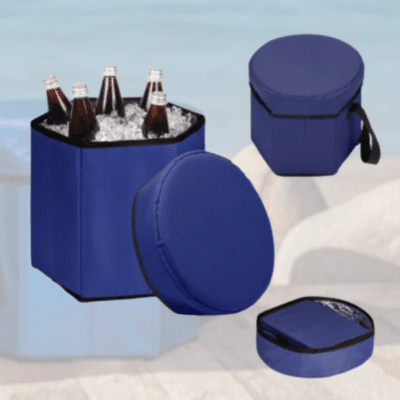 A Cooler Cooler


Owning the Bongo is kind of like having a big cooler, a comfy chair and a small cooler all in one. Take the Bongo on picnics, out camping or tailgating.
A cooler's main job is to keep things fresh and get them where they need to go. This one is unique because it invites you to go ahead and sit on its padded lid, once you're there.
The Bongo keeps your drinks and food fresh, whether hot or cold, with 12 quarts of storage space and a water-resistant liner. It carries up to 250 pounds!
Made by Oniva, this cooler comes in black, red or navy blue, and comes with an adjustable shoulder carry strap. It features a six-sided design that easily folds away when done.
Details: Bongo's dimensions are 12.25″ x 12.25″ x 11.75″ and weights 3.05 pounds. Keep it clean by surface washing with a damp cloth, or handwashing the liner with mild soap.